Spoil Yourself with the Most Wonderful Selection of Fresh Pastries!
We offer our customers an irresistible array of beautiful, handcrafted desserts in a warm and inviting neighborhood environment.  We bake everything fresh in small batches seven days a week, using only the finest ingredients and offer a gorgeous selection of delicious desserts.
Florentine Cups
Florentine cups dipped in dark chocolate, filled with fresh pastry cream and topped with assorted seasonal fruits.
Scones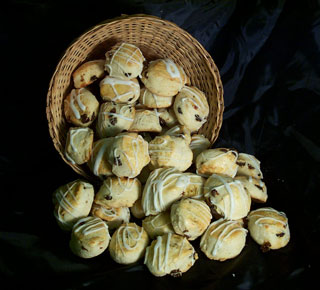 Our classic English tea biscuit recipe with raisins.
Assorted Mini-Pastries
 Assorted Mini Pastries include:
Fresh fruit and custard tarts
Chocolate truffle tarts
Key lime tarts
Cream horns filled with fresh whipped cream
Cream puffs – pate choux dough filled with whipped cream
Eclairs -filled with custard
Chocolate cups filled with hazelnut and white chocolate mousse
Raspberry Crisps
A thin layer of raspberry jam on a sheet of pastry dough topped with strusel.